Valet Parking
Valet parking is located at Mi Cocina on the northbound Woodall Rodgers Freeway access road. Valet is $15 for park patrons and $5 for those dining at Mi Cocina with validation. 2000 Woodall Rodgers Freeway
Self-Parking Options
Metered Parking is available streetside at most times of the day.
When those are full, self-parking is available for $10 per vehicle at the locations listed below. The addresses provided will bring you to the entry point of each building's parking garage: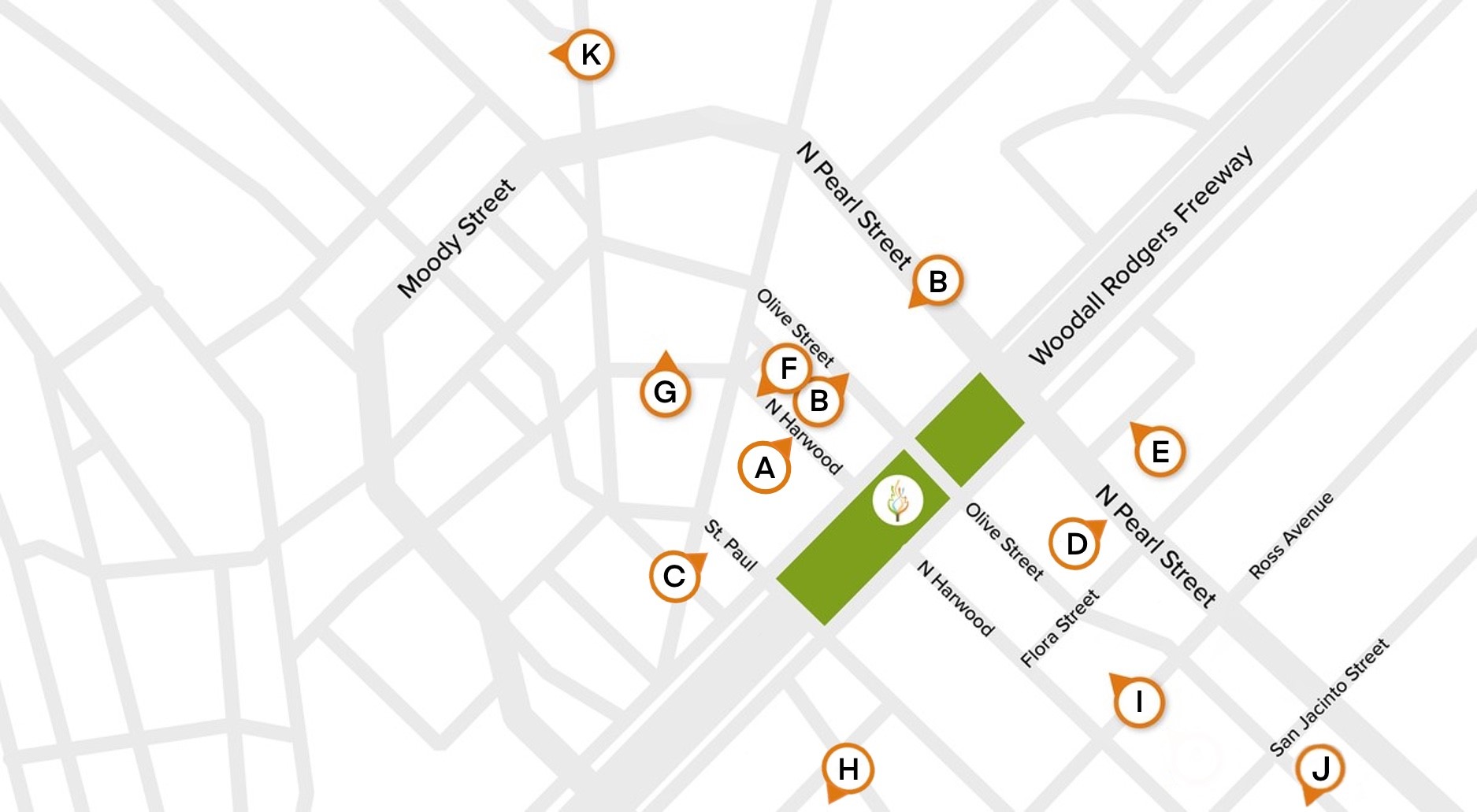 B. Park District Dallas

2199 Olive Street Alternate Entrance: 2199 Pearl Street Dallas, TX 75201

1-minute walk

C. Woodbine/First United Bank

1845 Woodall Rodgers Freeway All day parking: $16 Monday - Friday, $20 Saturday - Sunday

1-minute walk

D. Park Fast

1821 N. Pearl Street Dallas, TX 75201 $10 - 2 hours, $12 - 4 hours, $15 - 12 hours, $20 - 24 hours, $10 early bird Friday - Sunday in by 7:30 Am up to 12 hours

1-minute walk
PLEASE NOTE: Always read the posted signs, which supersede any instruction. Dallas Police will issue tickets for illegal parking.
Other Self-Parking Options
Dallas Museum of Art
Located in the nation's largest arts district, the Museum acts as a catalyst for community creativity, engaging people of all ages and backgrounds with a diverse spectrum of programming, Click here for more information.
Metered Parking
Streets on the Park's perimeter and nearby streets offer metered parking. Some parking meter stations accept credit cards and cash.
On Foot or Bicycle
We hope you will walk or bike to enjoy the park! We have improved pedestrian crosswalks and bike racks to help encourage Park visitors to leave their cars at home. Please walk your bicycle or scooter through the Park.
Trolley
The McKinney Avenue Trolley (MATA) makes frequent stops throughout the day near Klyde Warren Park, at the corner of St. Paul and Woodall Rodgers (across from the Dallas Museum of Art) and and their stop on Olive St. near Woodall Rodgers Freeway. Please see www.mata.org for complete line schedules and stops.
DART
The two DART rail stops that are closest to the Park are the St. Paul station and the Arts District Pearl station, both within walking distance of the park. DART provides connectivity and park patron access through the extensive mass transit system and mobility that DART offers throughout the City of Dallas and the surrounding area. Please see www.dart.org for complete details.
You now know where to park. What's next?
Klyde Warren Park has so many fun activities and events during the week and on the weekends.